Engineering
Engineering majors at W&L have a distinctive opportunity to study the principles and applications of engineering within a liberal arts environment. Our engineering students develop the ability to think critically and ethically, communicate clearly, appropriately apply engineering principles, and successfully design
solutions to real-world problems as they prepare for opportunities after graduation.
Engineering
Washington and Lee offers two engineering majors:
Engineering: A major in engineering allows students to develop breadth and depth in engineering analysis. The requirements offer flexibility, primarily in the junior year, as students focus their coursework in preparation for their capstone design project and future career. The junior year also offers the freedom to study abroad in the fall or winter term, during which time students can leverage the unique strengths of the host university to broaden their engineering background.
Integrated Engineering: The integrated engineering major provides students the opportunity to combine engineering with their interests in one of four tracks: biology, chemistry, computer science, or geology. The addition of a concentrated study of science into the engineering curriculum prepares students for multidisciplinary design challenges. Students can pursue study abroad opportunities to broaden the range of track-specific coursework and take advantage of their unique background when designing collaboratively in the capstone sequence.
The Engineering Program at Washington and Lee University allows students to:
Acquire a working knowledge of foundational engineering principles.
Apply the foundational principles to engineering problems.
Integrate foundational principles to develop innovative solutions to novel, open-ended engineering design projects.
Apply an engineering design process to satisfy requirements and specifications of design projects.
Understand how engineers operate within the broader context of society.
Incorporate cultural, environmental, economical and ethical factors into design decisions.
Communicate technical knowledge through written documents, oral presentations, and digital and graphical media.
Learn to communicate effectively within a team environment.
Gain proficiency with contemporary equipment and software encountered in research environments and professional practice.
Prepare to enter a diverse work environment including advanced engineering studies or professional practice.
Accreditation
Throughout the history of our engineering program, we have not sought accreditation through the Accreditation Board for Engineering and Technology (ABET). This decision is rooted in our desire to provide our students with a broad range of courses in engineering while allowing students the flexibility to focus on their interests. Though our objectives are in harmony with accredited engineering programs, we believe it is our student-centered approach that affords majors the unique foundation upon which they build success after graduation.
Outcomes
Employment: UTC Aerospace Systems, Clark Construction, Raytheon, Turner Construction Company, National Grid, Whiting-Turner Construction Company, Apptech Solutions and Space-X.
Graduate School: Carnegie Mellon, UC Berkeley, University of Virginia, Northwestern University, Columbia University, Georgia Tech, University of Tennessee, Virginia Tech and Vanderbilt University.
Graduate Fellowships: Fulbright Scholarships to Germany and Estonia, National Science Foundation Graduate Research Fellowships, and a Congress Bundestag Youth Exchange Fellowship.
Opportunities
Faculty-Directed Research: Students gain firsthand experience in engineering research and development during the academic year for credit or over the summer through a paid stipend.
Engineering Community Development (ECD): Originally organized as Engineers Without Borders, ECD allows members to develop solutions for community needs both locally and abroad. Students have recently traveled to Belize and to Fries, Virginia, to support those communities through their work.
Robotics Club: A student club that designs and develops robots to compete at national and international competitions. This group builds on the recent success of an electronics class that focused on robot programming and design.
Capstone Design: Students invest their senior year working in teams to develop a solution to a project of their own choosing. Engineering students collaborate with those in the Entrepreneurship Program to develop business plans and marketing strategies, and consult with law students specializing in intellectual property law to understand how existing copyrights, patents and trademarks impact their work.
Conferences and Publications: Students routinely travel to national and international conferences to present their research or compete in engineering competitions, and they regularly appear as co-authors on faculty publications.
ENGN 125
Engineering Marvels
ENGN 207
Electrical Circuits
ENGN 260
Materials Science
ENGN 267
Bioengineering & Bio-Inspired Design
Meet the
Faculty
At W&L, students enjoy small classes and close relationships with professors who educate and nurture.
Irina Mazilu
Department Head; Parmly Professor of Physics
Irina Mazilu teaches courses in general physics, statistical physics, nuclear physics and computational modeling of physical systems. Her current projects include nanoparticle self-assembly and applications of statistical physics to social sciences.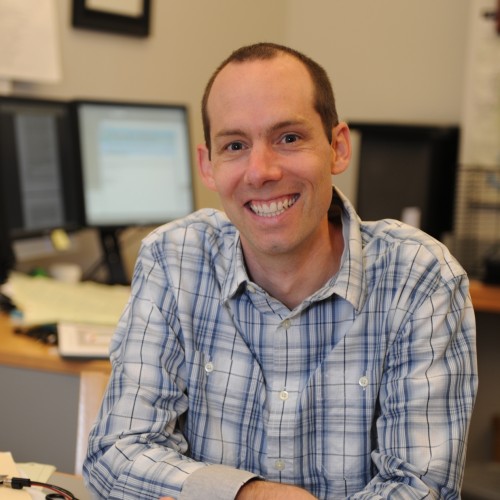 Jonathan Erickson
Professor of Physics and Engineering
Erickson's courses include Physics and Perception of Music, Electronics, and Bioengineering and Bioinspired Design. His research interests include biomedical signal processing for gastrointestinal electrical activity patterns. In his Bioelectronics Lab, students develop electronics hardware and software algorithms to measure dynamic patterns of electrical activity in the gastrointestinal tract.
Joel Kuehner
Professor of Physics and Engineering
Kuehner teaches courses in entry-level engineering, mechanics, thermodynamics and fluid mechanics. His recent research focuses on periodic water flows and oscillatory natural convection to uncover the causes of periodic behavior. In his Fluid Diagnostics Lab, research examines turbulent mixing mechanics. Students acquire flow properties such as temperature or velocity using laser-based methods that do not disturb the flow.
Mengying Liu
Assistant Professor of Engineering
Mengying Liu teaches courses in materials and mechanics. Her research background is in hydrogen embrittlement behavior of alloy 725, investigating the localized plasticity on the surface of the hydrogen embrittled materials in situ with scanning electron microscope. She received her Ph.D. in Materials Science and Engineering from Texas A&M University.
Dan Mazilu
Professor of Physics
Mazilu teaches courses in general physics, classical mechanics, electricity and magnetism, and special topics in contemporary physics. His research interests include experimental and theoretical studies of self-assembled nanoparticle monolayers, as well as interdisciplinary projects in the field of complex systems.
Tom McClain
Assistant Professor of Physics
Professor McClain teaches General Physics for first-year students. His research interests include quantum theories of gravity, gravitational wave astronomy, philosophy of physics, and mobile and cloud-based physics simulations for education.
Son Nguyen
Visiting Assistant Professor of Physics
Son Nguyen teaches courses in general physics and quantum mechanics. He is interested in applying effective field theories to nuclear few-body systems. His work involves the search for fundamental symmetry violations, direct detection of dark matter, and properties of cluster-structured atomic nuclei. Recently, he has been exploring new computational methods for studying few-body quantum mechanics using lattice formulations of these effective field theories.
Todd Rutkowski
Instructor of Physics and Engineering
Todd Rutkowski teaches courses in general physics. His current focus is on implementing effective physics pedagogies throughout the undergraduate curriculum. His research background is in condensed matter physics, studying magnetic phases of ultracold gases which arise due to strong quantum fluctuations at low temperature. He also studies cultural heritage science, leveraging non-invasive spectroscopic techniques to identify pigments used in historical paintings.
Anukriti Shrestha
Adjunct Professor of Engineering
Anukriti Shrestha, a 2019 W&L graduate, is now a PhD candidate in Chemical Engineering in the Paolucci Lab at the University of Virginia. Her research focuses on how domain size and support composition impact the reactivity and reducibility of oxide-supported tungsten oxide clusters.
David Sukow
Robert Lee Telford Professor of Physics 
Sukow's courses include Stellar Evolution and Cosmology, Modern Physics, Optics, and Quantum Mechanics. His research involves nonlinear dynamics in semiconductor lasers, and is beginning to include astrophysics.