The Williams School of Commerce, Economics, and Politics
Politics Department
Academic Division:

The Williams School

Degrees Offered:

Bachelor of Arts

Academic Programs: Major Requirements
Course Offerings:
The Department of Politics at Washington and Lee University teaches students to be informed and active citizens of a free society, able to think about politics with rigor and nuance. We offer a wide array of courses in American government, political philosophy, global politics, and statistics and methods. We encourage students to pursue their education in an interdisciplinary manner and we provide opportunities to augment their study in off-campus and experiential learning programs.
To this end, the Politics Department faculty:
Offer a broad, robust political science curriculum.
Structure the major in an interdisciplinary spirit and encourage students to take advantage of off-campus and foreign study programs.
Teach in a responsive, solicitous manner.
Engage and contribute to the study of politics in the broader scholarly community.
Teach courses that enable students to demonstrate competency in: Research and Analysis Objectively Evaluating Information and Arguments and Formulating their own thesis Integrating Knowledge into a broader understanding of Politics
News
Monday, October 09, 2017
W&L's Strong On Washington's Quest for His Stepson's Education
Strong's piece was published in The Richmond Times-Dispatch.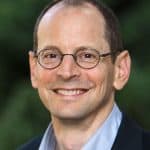 Thursday, October 05, 2017
Jonathan Rauch Continues the "Conversations in the Age of Trump" Series
Jonathan Rauch of the Brookings Institution will give a lecture titled "Unpresidented: Governing in the Age of Chaos."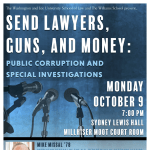 Monday, October 02, 2017
W&L Alums Missal and Sharman Discuss Public Corruption and Special Investigations
Both speakers have extensive experience as special investigators in high profile investigations involving both public and private sector work.