The Williams School of Commerce, Economics, and Politics
Business Administration Department
Academic Division:

The Williams School

Degrees Offered:

B.S. with Special Attainments

Academic Programs: Business Administration Major
Course Offerings:
The Business Administration Department's role in the education of students in the liberal arts tradition in the Williams School at Washington and Lee University emphasizes written and verbal communication, development of student understanding of business theory and practice as well as connections between business and other fields, and importance of serving society with vision and integrity.
Students will communicate clearly in written English, demonstrating their comprehension, analysis, and critical questioning of business concepts and issues.
News
Tuesday, March 13, 2018
Reiter to Give Talk in Honor of Cannan Term Professorship
Her talk is titled "Does it Make Sense to Blame Corporations?"
Thursday, February 15, 2018
Former Federal Reserve Bank President to give H. Parker Willis Lecture
Dr. Jeffrey Lacker, former CEO of the Federal Reserve Bank of Richmond, will give the H. Parker Willis Lecture in Political Economy.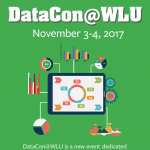 Friday, October 13, 2017
Washington and Lee Hosts Inaugural DataCon Event
DataCon, a new event for students, will highlight the impacts of data analytics, big data and statistical computing.
Events