Sociology and Anthropology
The faculty in the Department of Sociology and Anthropology has a combined interest in culture and society. Because the world in which we live is so diverse and interconnected, our mission is to empower students to examine their own lives and values in the context of many different societies, including our own, to develop understandings of cultural variation.
In teaching about what it means to be human, we offer a variety of qualitative and quantitative research methodologies through which students learn about social interaction and cultural practices. Our students acquire advanced skills of critical thinking, precise writing, and well-informed interaction with diverse communities. These abilities are extraordinarily helpful in a variety of career choices, including business, law, the health professions, and graduate school.
News
Wednesday, May 17, 2017
Taking Care of (Music) Business: Austin Frank '17
What can you do in four years at W&L? How about manage a radio show, start a service organization, found a club, or publish an EP? Austin Frank '17 has done them all.
Wednesday, May 10, 2017
Anthropology Students' Work Comes to Life with The Many Stories of Main Street
Families and people of all ages are encouraged to take part in "The Many Stories of Main Street," an interpretive downtown Lexington walking tour.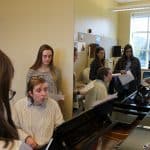 Friday, May 05, 2017
W&L Students Austin Frank and Dana Gary Featured on WDBJ-7
WDBJ-7 interviewed Dana Gary '18 and Austin Frank '17 about student-run label Friday Underground Records.