Community Grants Program
Washington and Lee University is fortunate to be a part of the City of Lexington and greater Rockbridge County community, closely sharing not only geography but myriad important resources and relationships. Washington and Lee is integrally linked to the life of the local community and is committed to being an active partner in promoting its well-being.
Established in the spring of 2008, the purpose of the Community Grants Committee is to create a formal structure for evaluating requests for financial donations and support that come to Washington and Lee from the Lexington/Rockbridge community. While the university has long provided financial and other assistance to worthwhile projects and organizations in the community on a case-by-case basis, the Community Grants program formalizes W&L's role in supporting regional organizations and activities through an accessible grant-making process.
The W&L Community Grants Committee will consider requests for financial assistance from any non-profit organization working for the benefit of the regional community and for the individuals who call it home. Requests for all types of support (programs, equipment etc.) will be considered provided that any funds granted will have a direct positive impact on members of the Lexington/Rockbridge community.
See the proposal guidelines.
Recent News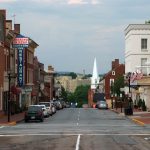 Thursday, April 05, 2018
W&L Announces Spring 2018 Community Grants
W&L's Community Grants Committee has made 9 grants totaling $19,093 to non-profit organizations.
Wednesday, February 07, 2018
W&L Community Grants Committee to Evaluate Proposals In March
The deadline for submitting a proposal for the Spring 2018 evaluation is 4:30 p.m. on Friday, March 2, 2018.
Wednesday, December 06, 2017
W&L Announces November 2017 Community Grants
Community Grants Committee has made 19 grants totaling $30,760 to non-profit organizations in Lexington and Rockbridge County.