Journalism and Mass Communications
The Department of Journalism and Mass Communications offers students two dynamic majors: Journalism and Strategic Communication. Both combine deep grounding in the liberal arts and sciences with solid experience in research, analysis and clear communication. Our graduates have an excellent reputation throughout the news industry, in public relations, and in a variety of other fields.
News
Tuesday, June 13, 2017
W&L's Colón Examines the Spread of Fake News on The Academic Minute
Journalism professor Aly Colón talks about the spread of fake news on The Academic Minute.
Thursday, March 30, 2017
Aly Colón to Lead Online Discussion Sponsored by LACOL
Register now for the LACOL Popup Discussion, You Are the New Gatekeeper of the News, led by W&L's Aly Colón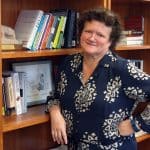 Tuesday, March 28, 2017
Journalism W&L's Swasy on How Journalists Use Twitter
Alecia Swasy, Donald W. Reynolds Chair in Business Journalism, writes about the journalists' use of Twitter.
Updates
Scenes from Reid Hall
Upcoming Events