Politics
At W&L, the study of politics is a combination of theory and practice and our proximity to D.C. is a plus. We are close enough for students to benefit from study in the nation's capital, but far enough away to be one step removed from the day-to-day D.C. experience.
Politics
W&L offers a liberal arts approach to the study of politics. It's interdisciplinary. Our department stresses the close reading of texts. We enable students to think seriously about the most important questions regarding being a member of a community and how we relate to other nations. Instruction is not focused on lectures, but on a question-and-answer approach between students and faculty that is highly interactive. We offer small classes, and faculty have an open-door policy and are highly interested in their students' success in the classroom and in the world beyond W&L.
The Department of Politics at Washington and Lee University teaches students to be informed and active citizens of a free society, able to think about politics with rigor and nuance. We offer a wide array of courses in American government, political philosophy, global politics, and statistics and methods. We encourage students to pursue their education in an interdisciplinary manner and we provide opportunities to augment their study in off-campus and experiential learning programs.
Opportunities
The study of politics at W&L includes opportunities to participate in our Mock Convention, publish in our Political Review, work with high school students in our Model UN program and engage in a host of community service projects.
Many have earned prestigious scholarships, such as Fulbright, Rhodes, Rotary and Watson fellowships. Some of our students go on to pursue graduate study and are now teachers of politics themselves. The major offers something for everyone. We support off-campus research and study, and conference participation. There are opportunities to study with professors during the academic year as well as the summer.
Washington Term
The Washington Term Program has provided more than 400 W&L students with memorable living and learning experiences in the nation's capital since 1987. Students have used the six-week Spring Term course to launch careers in every branch of government. The program includes three components: an academic course, an internship and a lecture series.
POL 360
Lincoln's Statesmanship
POL 384
Middle East Politics
POL 296A
International Political Economy
POL 295
Minority Rights & Gerrymandering
POL 292
Politics of Film: "Mad Men"
Meet our
Faculty
At W&L, students enjoy small classes and close relationships with professors who educate and nurture.
Lucas Morel
Department Head, John K. Boardman, Jr. Professor of Politics
Morel has taught at W&L since 1999. His teaching and research interests include American government, political theory, Abraham Lincoln, Ralph Ellison, and race and equality. He is a pre-law advisor and an accomplished writer.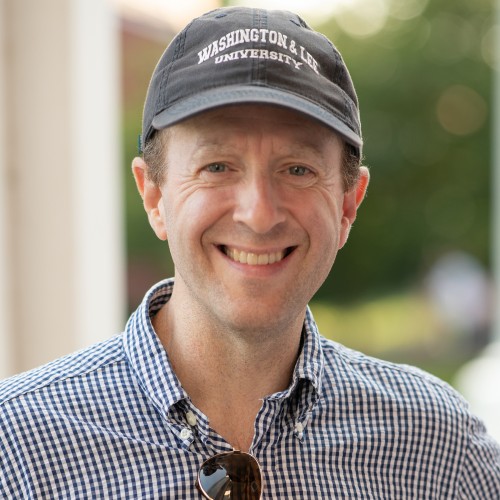 Brian Alexander
Assistant Professor of Politics
Alexander teaches courses primarily in U.S. government and international relations. He has nearly 20 years of professional experience and previously worked in the office of Senator Jack Reed (D-RI).
Seth Cantey
Associate Professor of Politics; MESA Program Head
Cantey teaches courses on global politics, Middle Eastern politics, intelligence, terrorism and foreign policy. His commentary on current events has been picked up by various media outlets, such as USA Today and the Huffington Post.
Stuart Gray
Associate Professor of Politics
Gray teaches numerous courses on political philosophy, Gandhi and Greek/Indian political theory. His research focuses on the history of political thought, global comparative political theory and South Asian political thought.
Rebecca C. Harris
Professor of Politics
Harris teaches applied American Politics courses in government, public policy and environmental policy. Her interdisciplinary work focuses on genetic science and partisanship in food politics.
Robin LeBlanc
Professor of Politics
LeBlanc is a political anthropologist focused on the civic engagement of non-elites in rich democracies. She teaches classes on global politics, urban politics, gender and politics, and political theory.
Zoila Ponce De Leon
Assistant Professor of Politics
Ponce de Leon teaches courses on comparative politics and Latin American politics. Her research focuses on Latin American social policy as well as political representation in Latin America and Western Europe.
Mark Rush
Director of International Education and Professor of Politics
Rush writes on U.S. politics, constitutional law, elections and democracy around the world, global affairs, and higher education. His current scholarly work includes presidential power, international politics, judicial activism, elections and democratic reform, civic education, higher education, and law and technology.
Robert Strong
William Lyne Wilson Professor in Political Economy and Interim Head of the Politics Department
Strong teaches courses in American government, global politics, and American foreign policy. His research pertains to foreign policy, the presidency and national security issues.
Lynn Uzzell
Visiting Assistant Professor of Politics
Lynn Uzzell is a Visiting Assistant Professor of Politics at Washington and Lee University. She is currently working on two book manuscripts relating to the records of the Constitutional Convention. She specializes in the Constitutional Convention of 1787 and the political thought of James Madison. In addition, she has research and teaching experience in political philosophy, rhetoric, and slavery and the Constitution.
Clyde Wang
Assistant Professor of Politics