Physics
Building upon a foundation in theory and concepts, students apply critical thinking to analytical, computational, and experimental methods, which fosters in them a universal approach that promotes success in any field.
Physics
Physics is crucial to understanding the world around us, the world inside us, and the world beyond us. It is the oldest, most basic and fundamental science. Through completion of the program, our physics majors will:
Apply fundamental physics theory and concepts.
Integrate fundamental physics concepts to comprehend advanced topics.
Simulate and model physics problems using mathematical and computational methods.
Gain proficiency with instrumentation, equipment, and hardware employed in physics experimentation.
Process data, identify trends and interpret results from physics measurements or simulations.
Design and conduct physics experiments.
Demonstrate awareness of current lines of inquiry in physics or related interdisciplinary areas.
Identify valid technical resources and extract relevant information.
Communicate scientific information through written and oral presentations for either technical or general audiences.
Articulate the role of physics in society.
Opportunities
Research with faculty on campus: Students work with faculty on research projects during the year for credit, or over the summer for credit and paid stipend.
Research opportunities and internships: Students are encouraged and supported by faculty to participate in research and internship summer programs outside of W&L. Our students routinely participate in National Science Foundation-funded programs at various research universities, as well as at NIST (National Institute of Standards and Technology) and
CERN (The European Organization for Nuclear Research). The department website maintains a listing of off-campus research opportunities.
Intro Physics TAs: Physics, Engineering, and Integrated Engineering majors
(or sophomores by invitation who intend to major) who meet the minimum requirements can apply to become a teaching assistant for the Introductory Physics labs.
Conferences: Our research students often present their work at the American Physical Society National Conference and other national and international conferences. For example, our students participated at conferences in Seoul, South Korea, Madrid, Spain and Lyon and Paris, France.
Publications: We are very proud to have our students as co-authors. Our research students publish in prestigious journals such as Physical Review A, Physical Review E, Physica A, and the Journal of Statistical Mechanics.
PHYS 151
Stellar Evolution and Cosmology
PHYS 102
Physics and Perception of Music
PHYS 275
Electricity and Magnetism
PHYS 125
Particle Physics at CERN
Meet the
Faculty
At W&L, students enjoy small classes and close relationships with professors who educate and nurture.
Irina Mazilu
Department Head; Parmly Professor of Physics
Irina Mazilu teaches courses in general physics, statistical physics, nuclear physics and computational modeling of physical systems. Her current projects include nanoparticle self-assembly and applications of statistical physics to social sciences.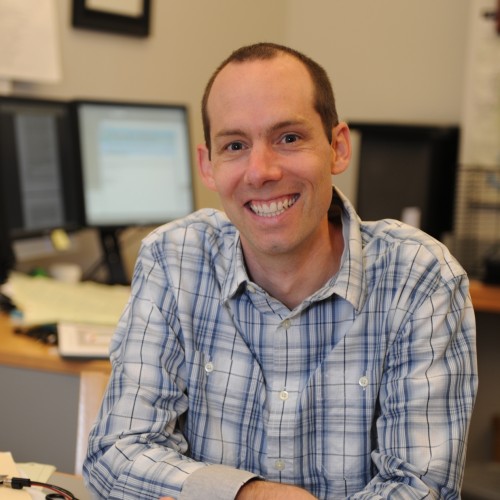 Jonathan Erickson
Professor of Physics and Engineering
Erickson's courses include Physics and Perception of Music, Electronics, and Bioengineering and Bioinspired Design. His research interests include biomedical signal processing for gastrointestinal electrical activity patterns. In his Bioelectronics Lab, students develop electronics hardware and software algorithms to measure dynamic patterns of electrical activity in the gastrointestinal tract.
Joel Kuehner
Professor of Physics and Engineering
Kuehner teaches courses in entry-level engineering, mechanics, thermodynamics and fluid mechanics. His recent research focuses on periodic water flows and oscillatory natural convection to uncover the causes of periodic behavior. In his Fluid Diagnostics Lab, research examines turbulent mixing mechanics. Students acquire flow properties such as temperature or velocity using laser-based methods that do not disturb the flow.
Dan Mazilu
Professor of Physics
Mazilu teaches courses in general physics, classical mechanics, electricity and magnetism, and special topics in contemporary physics. His research interests include experimental and theoretical studies of self-assembled nanoparticle monolayers, as well as interdisciplinary projects in the field of complex systems.
Tom McClain
Assistant Professor of Physics
Professor McClain teaches General Physics for first-year students. His research interests include quantum theories of gravity, gravitational wave astronomy, philosophy of physics, and mobile and cloud-based physics simulations for education.
Son Nguyen
Visiting Assistant Professor of Physics
Son Nguyen teaches courses in general physics and quantum mechanics. He is interested in applying effective field theories to nuclear few-body systems. His work involves the search for fundamental symmetry violations, direct detection of dark matter, and properties of cluster-structured atomic nuclei. Recently, he has been exploring new computational methods for studying few-body quantum mechanics using lattice formulations of these effective field theories.
Todd Rutkowski
Instructor of Physics and Engineering
Todd Rutkowski teaches courses in general physics. His current focus is on implementing effective physics pedagogies throughout the undergraduate curriculum. His research background is in condensed matter physics, studying magnetic phases of ultracold gases which arise due to strong quantum fluctuations at low temperature. He also studies cultural heritage science, leveraging non-invasive spectroscopic techniques to identify pigments used in historical paintings.
Anukriti Shrestha
Adjunct Professor of Engineering
Anukriti Shrestha, a 2019 W&L graduate, is now a PhD candidate in Chemical Engineering in the Paolucci Lab at the University of Virginia. Her research focuses on how domain size and support composition impact the reactivity and reducibility of oxide-supported tungsten oxide clusters.
David Sukow
Robert Lee Telford Professor of Physics 
Sukow's courses include Stellar Evolution and Cosmology, Modern Physics, Optics, and Quantum Mechanics. His research involves nonlinear dynamics in semiconductor lasers, and is beginning to include astrophysics.