Earth and Environmental Geoscience
Students who major in earth and environmental geoscience are curious about the natural world, enjoy solving complex problems in the field or laboratory, like spending time outdoors, and are interested in using or protecting our natural resources.
Earth and Environmental Geoscience
Students in our program are exposed to the breadth of core geoscience fields as well as a wide variety of specialty and interdisciplinary science courses. Our curriculum ensures that students develop analytical thinking, reasoning, communication and problem-solving skills, as well as a thoughtful, creative and inquisitive intellect. Much of our coursework is hands-on and completed in the field, laboratory or computer classrooms.
About the Program
Lexington is surrounded by some of the most interesting geology in the Appalachian Mountain system — and our programs take advantage of it.  Many courses include excursions for hands-on study and intensive field experiences. 
The B.S. in earth and environmental geoscience prepares students for graduate school and a career as a geological scientist. The B.A. prepares students for a career in any number of fields in addition to geology and the environment and graduate school. 
Opportunities 
Research: Students gain experience working with faculty for credit during the academic year or in the summer with stipends. This has resulted in many student co-authored presentations and scientific publications.
Conferences: We offer financial support for students to attend national and international meetings, where many students present their own research.
Spring Term: We provide numerous opportunities for students to learn in exciting locations at both the introductory and advanced level. Geology students have traveled to New Zealand, Iceland, Belize, Greece, the American Southwest, the Grand Canyon and Hawaii for class.
Field Work: We are ideally situated in a geologically rich area of Virginia, with quick access to a wide variety of geology.
Analytical and Computing Capability: We benefit from state-of-the-art analytical and laboratory equipment, including a scanning electron microscope, stable isotope mass spectrometer with gas bench, inductively coupled plasma optical emission spectrometer, ion chromatograph, X-ray diffractometer, seismic acquisition unit, magnetometers, gravimeter, resistivity unit, unmanned aerial devices, differential GPS, many cutting-edge software programs including ArcGIS and MatLab.
Outcomes
Earth and environmental geoscience alumni work in a variety of fields, including consulting, oil and gas, geophysics, alternative energies, geotechnical engineering, geochemistry, investment and commerce, entrepreneurship, environmental law, academia, secondary education, and as geoscientists in government agencies. Some employers of graduates include:
Consulting and engineering: Shaw Environmental and Infrastructure, ARCADIS Geraghty and Miller, Booz Allen Hamilton
Oil and gas corporations: Shell, Chevron, ExxonMobil, ConocoPhillips, Hess, Chesapeake, Advanced Resources Inc.
Investments and finance: Wells Fargo, DuPont, Hayek Kallen Investment Management
Conservation and education: Sierra Club, Outward Bound, Brown University, University of North Carolina, Western Albermarle High School Environmental Studies Academy
Federal and state agencies: EPA, USGS, NOAA, National Geospatial-Intelligence Agency, National Park Service, North Carolina Floodplain Mapping Program


GEOL 102
Sustainable Earth
GEOL 141
Global Climate Change
GEOL 205
History & Evolution of Earth
GEOL 231
Environmental Field Methods
GEOL 335
Petroleum Geology & Geophysics
GEOL 360
Tectonics & Thermochronology
Meet the
Faculty
At W&L, students enjoy small classes and close relationships with professors who educate and nurture.
Lisa Greer
Department Head, Professor of Earth and Environmental Geoscience
Professor Greer teaches general geology, global climate change, oceanography, history and evolution of the earth, and sedimentation and stratigraphy. She is a core member of the environmental studies faculty. She has spent years researching the health, abundance and history of the endangered Staghorn coral in the Caribbean.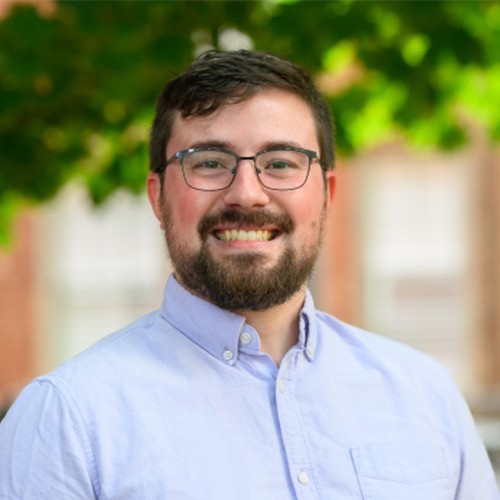 Nicholas Barber
Assistant Professor of Earth and Environmental Geoscience
Professor Barber teaches general geology and earth materials. His research interests lie in the formation, evolution, and environmental effects of volcanism.
Madhumita Chakraborty
Postdoctoral Fellow, Department of Earth and Environmental Geoscience
Professor Chakraborty teaches general geology and courses on water resources and hydrology. Her research focuses on understanding water contamination dynamics and identifying safe water resources.
Christopher Connors
William E. Pritchard III '80 Professor of Earth and Environmental Geoscience
Professor Connors teaches general geology, planetary geology, structural geology, field methods, geophysics, and petroleum geology. His research interests are in structural geology, fault-related folding and seismic interpretation of complex structures.
Karena Gill
Visiting Assistant Professor of Earth and Environmental Geoscience
David Harbor
Professor of Earth and Environmental Geoscience
Professor Harbor teaches general geology, geomorphology, and GIS and remote sensing. He is a core member of the environmental studies faculty. He has researched transient erosion, knickpoint erosion, stream morphology/hydraulics, and regenerative agriculture.
Margaret Anne Hinkle
Assistant Professor of Earth and Environmental Geoscience
Professor Hinkle teaches general geology, water resources, environmental field methods, hydrology, and earth and environmental geochemistry. She is an affiliate member of the environmental studies faculty. Her research is aimed at understanding how biogeochemical processes at the mineral-water interface affect water composition.
Elizabeth Knapp
Director of the Johnson Program in Leadership and Integrity; Professor of Earth and Environmental Geoscience
Professor Knapp teaches general geology and introduction to the geology of Hawaii. She is an affiliate member of the environmental studies faculty. She has researched low-temperature aqueous geochemistry and water quality/contaminant transport.
Jeffrey Rahl
Professor of Earth and Environmental Geoscience
Professor Rahl teaches general geology, history of geology, tectonics, and rocks and minerals. His research focuses on tectonics and the process that controls the formation, growth and erosion of mountain belts.