Cultural Heritage and Museum Studies
This multi-disciplinary minor allows students to complete work in the departments of art history, chemistry, classics, history, and sociology and anthropology. Required coursework introduces students to aspects of cultural heritage and museum studies including looting, trading, marketing, unearthing, conserving and curating.
Cultural Heritage and Museum Studies
Students take innovative courses with small class sizes that are led by dynamic professors. W&L's Cultural Heritage and Museum Studies courses prepare students to engage critically and ethically with cultural institutions. The minor affords student the opportunity to handle artwork and curate their own art exhibitions on campus.
About the Department
This minor reflects a broad set of concerns related to how we think about and treat cultural heritage objects and sites. In the 21st century, museum institutions — whether historic sites and battlefields, museums of science, art or natural history — stand at an intersection between education and cultural diplomacy where thorny issues about ownership, repatriation, preservation, tradition and looting are often very publicly debated. Courses of this minor relate to issues of ethical treatment of cultural heritage concerning the manipulation, production and destruction of objects and sites in pursuit of generating specific narratives of history and cultural identity. Through course work and experiential learning, the CHMS minor provides students the opportunity to examine both the theory and practice of cultural heritage and the museum world.
Internships and Awards
Summer internship in museum work: The Department of University Collections of Art and History offers an eight-week paid summer internship. The program provides students with an introduction to basic museum policies and practices through hands-on experience with the collection including: accessioning, cataloging, proper storage methods, research, database management and loans. After eight weeks, students will leave the program with a basic understanding of the major curatorial and administrative issues all museums face, regardless of the different types of collections they possess.
Thomas V. Litzenburg Award: The Thomas V. Litzenburg Award was created by the Reeves Center in 2004. The award is made annually, at the discretion of the University Collections staff in consultation with the Art Department or another relevant department, to the student who submits the best paper on artwork in the Collections. This annual prize is named in honor of Thomas V. Litzenburg Jr., Class of 1957, and former director of the Reeves Center.
ARTH 246
Questions of Ownership
ARTH 398
Seminar in Museum Studies
HIST 230
Discovering W&L's Origins
Meet the
Faculty
At W&L, students enjoy small classes and close relationships with professors who educate and nurture.
Clover Archer
Instructor of Art and Art History, Staniar Gallery Director
Clover teaches photography, arts management, as well as a studio seminar in the Department of Art and Art History. In addition to teaching classes, she is the Director of the Staniar Gallery and oversees the Staniar Gallery Internship.
Rebecca Benefiel
Abigail Grigsby Urquhart Professor of Classics
Benefiel teaches classics and Latin courses such as Pompeii, Classics in a Digital Age, and The Poetry of Ovid. She studies Latin epigraphy, Roman social and cultural history, Latin literature and Roman archaeology.
George Bent
Sidney Gause Childress Professor in the Arts
Bent teaches courses on medieval art, Renaissance art and gothic art. He has researched Italian art extensively and recently taught a course called Digital Florence in which students helped to digitally reconstruct the city.
Isra El-Beshir
Director of Museums
Ron Fuchs III
Curator of Ceramics; Manager of the Reeves Center
Fuchs manages the Reeves Collection at W&L, which was founded in 1967 with a gift of ceramics from alumnus Euchlin Reeves and his wife, the painter Louise Herreshoff. The collection contains ceramics made in Asia, Europe and the Americas between 1500 and today. Fuchs's areas of interest include Chinese export porcelain and the China Trade.
Donald Gaylord
Research Archaeologist and Instructor of Anthropology
Gaylord teaches courses in archaeology including Field Methods in Archaeology and Discovering W&L's Origins Using Historical Archaeology. He researches the anthropological analysis of property ownership and land use.
Elliott H. King
Associate Professor of Art History
King teaches courses in American and European Art, 1750 to the present. His research specialization is Surrealist art and thought with particular concentration on Salvador Dalí's production after 1940.
Melissa R. Kerin
Associate Professor of Art History; MESA Program Director
Kerin teaches courses in South Asian and East Asian art and architecture. Her research focuses on the intricate and multifaceted relationships between art and identity formation, cultural memory and religious praxis.
Michael Laughy
Boetsch Term Associate Professor of Classics and Department Head
Laughy teaches courses in ancient Greek religion, history, art and archaeology. His research interests are Greek religion, Greek epigraphy and ancient Athens.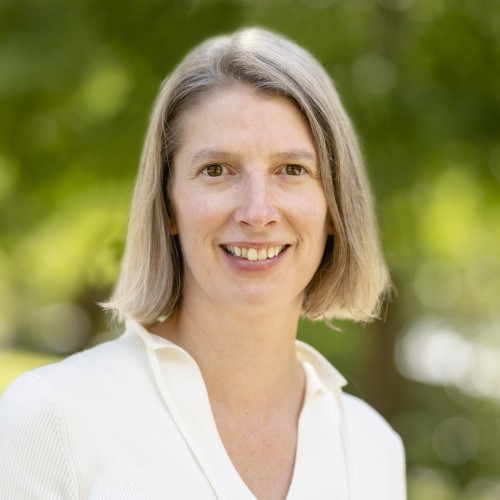 Andrea Lepage
Pamela H. Simpson Professor of Art History and Department Head
Andrea Lepage offers classes in the following areas: contemporary Chicana/o and U.S. Latina/o art, modern and colonial Latin American art, arts of Mesoamerica and the Andes, and Early Modern European art (Italian, Spanish, Dutch).
Erich Uffelman
Head of the Chemistry Department; Bentley Professor of Chemistry
Uffelman teaches courses in upper-level inorganic chemistry. He also teaches courses that overlap with the Art and Art History Department, such as Science in Art. Uffelman regularly supervises summer research students.