Classics
The wide scope of the classics field, and its emphasis on close study, analysis and critical thinking, makes it an excellent preparation for a wide range of professions.
Classics
Classics is the original "interdisciplinary" study. A student concentrating in classics can study not only the language, but the art, history, religion and law of the ancient world. The study of classics at Washington and Lee is provides exceptional opportunities for students to conduct professional work such as excavating in the Athenian Agora or participating in an international scholarly project, collecting and digitizing graffiti from the ancient world.
About the Program
Students may earn a major or minor in classics by taking classes in Greek, Latin or Classical Civilization. No knowledge of Latin or ancient Greek is necessary for courses in Classical Civilization. All department courses count toward the major in classics.
We encourage student majors to explore offerings in philosophy, history, art history, religion, theater and archaeology. The literature, philosophy and history of the Greeks and Romans are not only fascinating in their own right, but they have stimulated some of the finest achievements of subsequent thinkers and writers. 
Outcomes
Classics graduates of W&L have gone on to graduate study in classics and related fields, to law school, to medical school, to careers in consulting, and to positions teaching in private and public high schools.
Opportunities 
Study Abroad: Classics majors have many opportunities to study abroad, including the International Center for Classical Studies in Rome (Centro), College Year in Athens, Oxford University, and St. Andrew's University in Scotland.
W&L is a member of the American School of Classical Studies in Athens, and our students actively participate in the ongoing dig at the Athenian Agora during the summer under the direction of professor Michael Laughy.
Students also have the opportunity to travel to Italy under the direction of Professor Rebecca Benefiel to identify and gather graffiti in the ancient site of Herculaneum, and to participate in an international project digitizing the graffiti and producing critical editions.
In addition to these formalized institutional programs abroad, students may earn classics credit by participating in one of the trips to Italy or Greece offered and led by members of the classics faculty during Spring Term.
Honors in Classics: Classics majors who have achieved distinction in the major may be eligible to write an Honors Thesis during the senior year and should begin conversations with faculty during Winter Term of the junior year.
Student Conferences: The Classics Department is a member of Sunoikisis, a national consortium of classics programs. Students have the opportunity, among others, of participating at undergraduate conferences sponsored by Sunoikisis.
We are also a member of Eta Sigma Phi, the national collegiate Honor Society for students of classics.
Meet the
Faculty
At W&L, students enjoy small classes and close relationships with professors who educate and nurture.
Michael Laughy
Boetsch Term Associate Professor of Classics and Department Head
Laughy teaches courses in ancient Greek religion, history, art and archaeology. His research interests are Greek religion, Greek epigraphy and ancient Athens.
Rebecca Benefiel
Abigail Grigsby Urquhart Professor of Classics
Benefiel teaches classics and Latin courses such as Pompeii, Classics in a Digital Age, and The Poetry of Ovid. She studies Latin epigraphy, Roman social and cultural history, Latin literature and Roman archaeology.
Emma Brobeck
Visiting Assistant Professor of Classics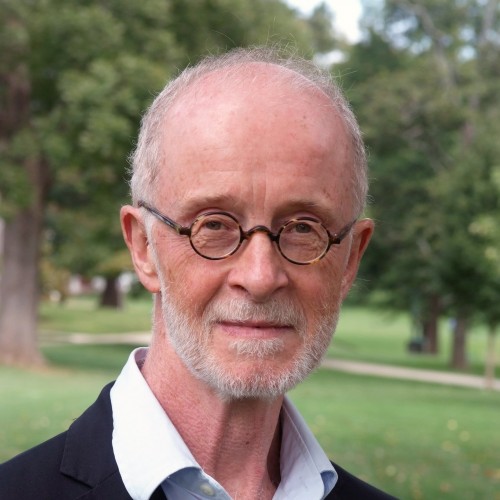 Kevin Crotty
Professor of Classics, The J. Donald Childress Professor in Foreign Languages
Crotty's courses include Classical Mythology; Homer; and Law, Litigation and Justice in the Ancient World. His research interests include myth, archaic Greek poetry, Plato and legal theory.
Caleb Dance
Associate Professor of Classics
Professor Dance teaches courses on topics in ancient literature as well as Greek and Latin language courses at all levels. His research focuses upon comic theory and laughter in ancient poetry.
Affiliate
Faculty
Faculty from other departments also teach classes that support the program in Classics.
George Bent
Sidney Gause Childress Professor in the Arts
Bent teaches courses on medieval art, Renaissance art and gothic art. He has researched Italian art extensively and recently taught a course called Digital Florence in which students helped to digitally reconstruct the city.
Alexandra R. Brown
Fletcher Otey Thomas Professor in Bible
Brown teaches courses on the New Testament and other ancient Christian texts, Bible and film, gender and religion, Christian mysticism, and theory and method in the study of religion. Her primary research is in New Testament, particularly the Pauline letters.
Matthew Loar
Director of Fellowships, Assistant Professor of Classics
Timothy Lubin
Jessie Ball DuPont Professor of Religion
Professor Lubin teaches courses on Asian religions and comparative study of religion and law. He researches Hindu religious history, law in ancient Asia, and texts and inscriptions in Sanskrit, Prakrit, Old Javanese and Old Tamil.